Our TEM. Your Experiment.
Our in-house testing facility includes a TEM Lab. We have a
JEOL 2100 TEM
equipped with a
Direct Electron DE12 camera
and an
AMETEK EDAX EDS
detector. We use several local options for testing ThermoScientific/FEI, Hitachi, and NION compatible products. If you visit us, you are welcome to use our TEM Lab for demos and limited testing. We offer our TEM for rent (staffed or not staffed) for extended periods.
Contact us
to learn about these options. The TEM Lab is open for specialized training events and for visits by customers and collaborators. Keep an eye on our 
Training Classes
and
Workshops
events.
Training and Workshops
Each year, we organize special training courses and user workshops on topics related to in-situ TEM. We host advanced hands-on training courses in our dedicated classroom space. Keep an eye on our Training Classes and Workshops events, or contact us to schedule a private event.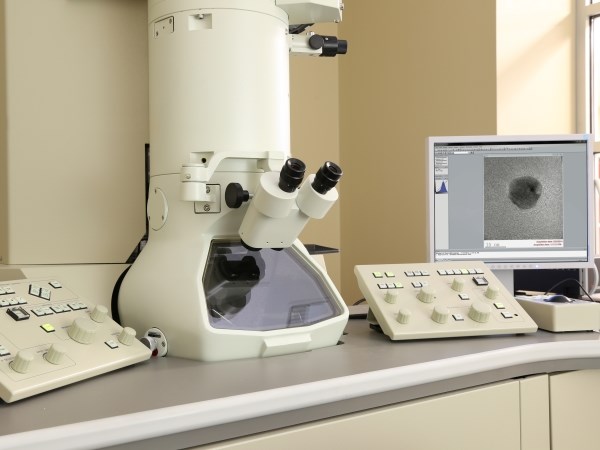 Come use our in-situ TEM lab
At Hummingbird Scientific, we aim to deliver scientific equipment precisely suited to your experimental needs. The best way to assure this is to allow potential users to test-drive the equipment. We invite you to visit our Lacey, WA, facility and TEM lab, where you can see new equipment and test any specific systems you might be interested in. Collaborators can also enhance their in-situ research by using our TEM with the aid of our applications scientist. contact us us to plan a visit.
Our TEM
Hummingbird Scientific's TEM lab is equipped with a JEOL-2100 200 kV LaB6 electron microscope, an AMETEK EDAX EDS detector, and a Direct Electron DE12 camera. The 4k x 3k camera can record in-situ TEM movies at 30 fps at full frame and at > 100 fps with a lower field of view. Visitors have Hummingbird Scientific's products at their fingertips. The TEM lab's ample space can accommodate custom experiment setups too.
‹
›