Engineering Driven by Science.
Hummingbird Scientific offers custom engineering solutions for electron and ion microscopy applications in nanotechnology, materials science, and biology. Our engineering, manufacturing, and scientific staff handle all aspects of these systems, including:
Holder design and engineering
Precision machining and fabrication
Electronics for actuator control and signal acquisition
Software for stand-alone and integrated applications
Private-label instruments and precision components for OEMs
We have labs dedicated to each of the different technical disciplines in our main facility in Washington State.
Analysis
Hummingbird Scientific's engineering process integrates a range of analysis methods. Our engineering staff have backgrounds in a variety of subdisciplines, including analytical and numerical analyses of engineering processes. We use leading 3-D analysis packages and first-principle mathematical simulations to strengthen the quality of our system designs. Our tool set includes mechanical analysis as well as mechanical and magnetic FEA. Collectively, these resources allow us to meet the needs of all of today's complex in-situ experiments.
Design
All of our products are designed in-house using state-of-the-art 3-D CAD software and analysis packages. Designs aren't complete until they have passed a demanding review and received sign-off from the engineering team. Our engineering staff has a background in research and work closely with the manufacturing staff to create designs that can be efficiently manufactured and assembled.
Testing
We test all of our products to ensure they'll meet the demanding requirements of your research. From checking tolerances with precision inspection tools to reading thermal data with IR cameras to testing new holder designs in our TEM, Hummingbird does it all in-house. We test everything, from the individual components to the complete system, so that you can feel confident in the product you receive.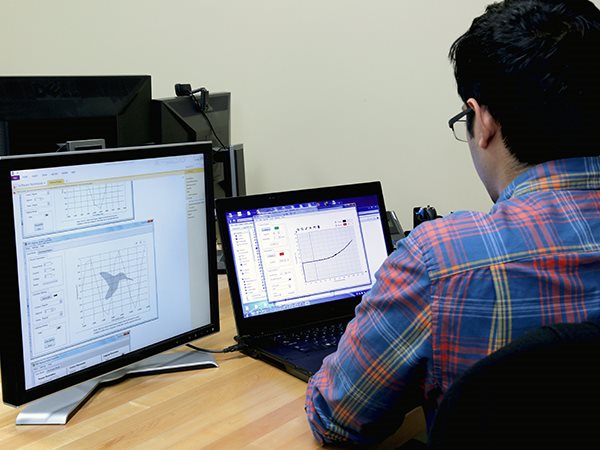 Software
The days of the simple sample holder are long over. Purpose-built control and data logging software has become a critical part of getting the most out of these complex instruments. Hummingbird writes its control software on-site and integrates all functions in single software interface, so that you can concentrate on making your experiment a success.
Electronics
Several of the newest generation of holders require custom electronics in order to perform at their full capacity. At Hummingbird Scientific, we design our systems holistically, simultaneously emphasizing mechanical hardware, electronics and software. This method means that when you buy a Hummingbird holder, we don't just send an off-the-shelf power supply. You get a custom-designed solution built and tested for your particular research needs.
‹
›