CatalysisOperando heating, biasing under environmental conditions
Features
TEM/SEM/X-Ray holders for Catalysis Research
Heating in reaction gas environments up to 1.5 atmosphere

Liquid Flow HolderSee More

Heating, biasing and/or optical stimulation of samples reacting in liquid environments

Heating, biasing of samples reacting in vacuum environments

Tomography HolderSee More

Pre or post-mortem material analysis

 

X-Ray/Synchrotron Liquid HolderSee More

A complete in-situ x-ray lab system
Edit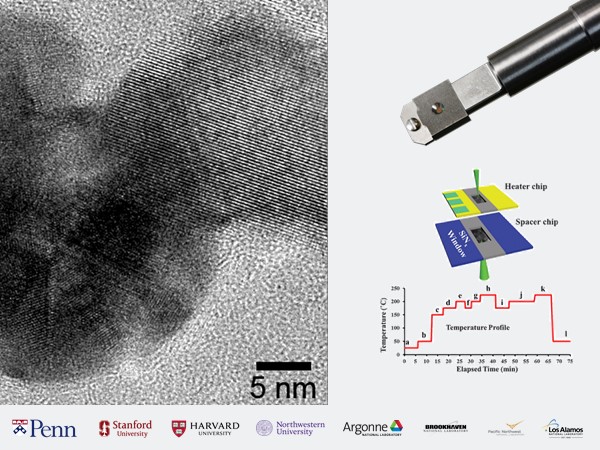 Operando TEM Catalysis at atmospheric pressure
Atomistic interaction of gas-solid phase is important to understand the working mechanism of various catalyst materials. This is specially for heterostructures with different structures. Researchers at Argonne National Laboratory used Hummingbird Scientific's Gas TEM system and observed atomic interaction of Ag/AgCl heterostructures during the redox process using the beam. In the experiment, Ag/AgCl nanocatalyst was first reduced to Ag, and then Ag was oxidized to different phases of silver oxide under different O2 partial pressures. Ag2O formed at low O2 partial pressure, whereas AgO formed at atmospheric pressure.
The TEM image of the top left shows the atomic scale redox dynamics of Ag/AgCl heterostructures studied using in-situ TEM gas holder.
Reference: Yimin A. Wu, Liang Li, Zheng Li, Alper Kinaci, Maria K. Y. Chan, Yugang Sun, Jeffrey R. Guest, Ian McNulty, Tijana Rajh, and Yuzi Liu. "Visualizing Redox Dynamics of a Single Ag/AgCl Heterogeneous Nanocatalyst at Atomic Resolution," ACS Nano (2016) pp. 3738-3746. Abstract
Image copyright © 2016 American Chemical Society
Edit
In-Situ TEM Reduction of Ferrihydrite to Magnetite
Operando reaction of Ferrihydrite nano-particles to Magnetite. Hydrogen gas at 1.1 bar was flown into the in-situ TEM gas cell during the experiment. When heated at 360°C the particles show changes from an amorphous to a crystalline structure as part of reducing reactions. In-situ time lapse image sequences are used to characterize these processes (Figure A-D). Imaging performance at temperature and pressure was explored and shown to almost match imaging performance of imaging in vacuum of similar samples on similar substrates. With the range of pressures and temperatures accessible with this experimental system, these types of experiments can be used to quantitatively explore kinetics over a large range of temperatures and pressures.
Hummingbird Scientific internal data in collaboration with Jaco Olivier, Matthew Coombes, Jan Neethling, Nelson Mandela Metropolitan University, South Africa
Edit
‹
›